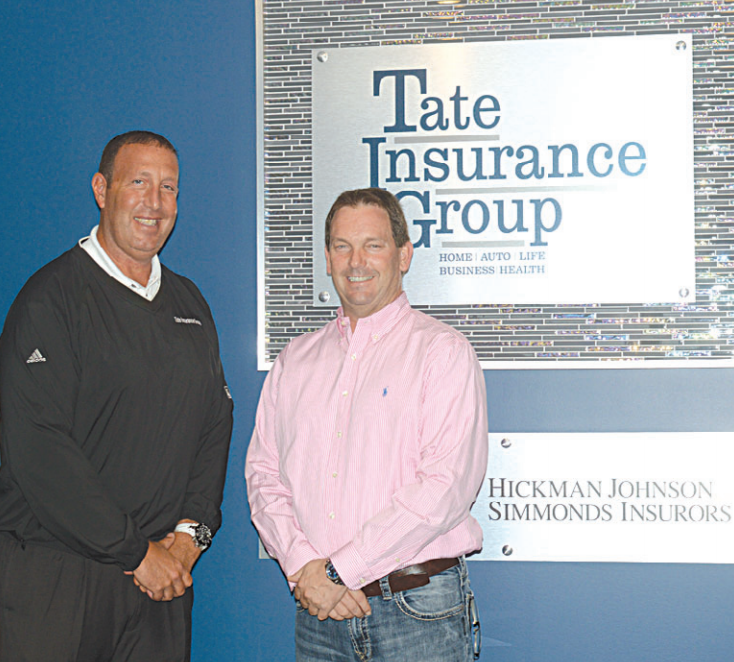 Tate Insurance Group is giving back to the community through its referral program.

Whenever someone refers the insurance company to another person or company, a donation is made to Emerald Youth Foundation. Farragut resident Scott Tate, president of the company, said he, Jennifer Peck, TIG customer service representative, and Stuart Bilbrey, vice president and partner of the company, got together and came up with the program.
"It's a way for us to kind of give back to our community," Tate said. "Too many businesses take for granted that we do business in a great town, but we don't really give anything back.
"We are a referral-based business," Tate added. "We do not go out and solicit business. We are 100 percent on referrals, and we wanted to give back to the people we believe in. We really believe in youth sports," he said. "I'm real big into sports. I played college football.
"We thought there was no better thing to give to than to our youth, and Emerald Youth Foundation does such a good job with youth, sports and education," he said. "So, we picked them to partner with. Anytime we get a referral, we give a donation from that person to the Emerald Youth Foundation." Tate Insurance Group, 6423 Deane Hill Drive in Bearden, carries all insurance products, such as home, auto, health, life and commercial insurance.
"We're an independent agency, which makes us a lot different because we represent multiple companies," Tate said. "We probably have 14 base companies that we utilize quoting insurance through, so our people who come to us don't get just one quote ... and, we do that for all our property and casualty markets," he said.
On the health insurance side, Tate said the company has the standard markets of BlueCross BlueShield of Tennessee, United and Humana.
"We are endorsed by Dave Ramsey, which is a really big deal for us as well. Stuart and I are appointed EIPs, which are endorsed local providers," Tate said.
"We both have gone through the financial training with Dave Ramsey, who endorses certain industries," he added.
Tate started the business eight years ago at 6423 Dean Hill Drive. He started with one CSR and said he has grown to be the fifth largest insurance company in Knoxville with eight CSRs.
"We've gone from zero to $16 million in written premiums in eight years," Tate said.
A former standout offensive lineman at Ohio University, Tate was a fi eld representative for Cincinnati Insurance Company.
"I traveled from Cincinnati and went to Kalamazoo, Mich., then moved to Knoxville. They wanted me to move to the home office, and my wife and I had a son and we had no desire to move back to Cincinnati," he said. "We love the Town."
Tate coached football and basketball at Farragut High School for 10 years and was involved in other ways in the community "We didn't want to move and thought, 'You know what, I'm going to give it a shot at owning my own company.' [Starting his own agency] worked out just great.
"This is a good location for us as far as being centralized," Tate said. He learned about the location from someone who coached. After leaving the FHS coaching position, Tate coached at Knoxville Catholic High School for a couple years. Billy Anderson, who owns the building that houses his agency, invited him to come in and lease space. "He helped me out a lot when I got started," Tate said. "We kind of joined forces for the first couple of years. Now, I do all the property and casualty side and he does trucking insurance."